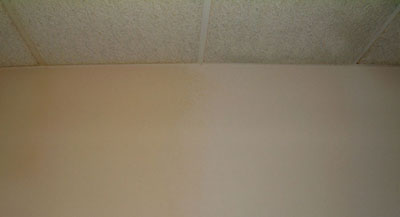 Our proprietary ceiling formula is used for cleaning all types of acoustical type ceilings, including drop ceilings. Your heavy duty ceiling cleaning mixture is created by safely mixing Spectrum Concentrate with regular 3% Hydrogen Peroxide plus water.
This ceiling cleaner formulation easily removes dirt and stains, including kitchen grease and cigarette smoke. No need for special equipment - use a clean spray bottle or garden type pump sprayer for large rooms. Lightly spray ceiling formulation on surface and allow it to work - ceiling material / tiles absorbs the solution and are not touched. Cleaning is done via the oxidization process - it burns up the dirt, cigarette smoke, or grease.
Once dry, your ceiling will be Clean and Brighter - material returns to its original color. Since this formula is an oxidizer, Safety Glasses must be worn when spraying overhead and kept away from windows and eye glasses.
Orders include: Cleaning Tips, Mixing Guidelines, MSDS, and Sprayer Labels.
A 2 Liter of Spectrum concentrate will clean a minimum 800 sq. feet. Here are just a few of its benefits and capabilities.
*Download the Ceiling Brochure from our brochures page - Includes sq. ft. calculation.
Key Features
Safe - Non Toxic - Non Flammable - Biodegradable Mixture

Simple - Easy - DIY No special tools needed

Spray on surface - dirt, grease and stains are removed by cleaner

Works on your acoustical drop type ceilings and tracks

Economical: Add Cleaner + Hydrogen Peroxide + Water

Concentrate: Spectrum Gallon makes 8 gallons of ceiling cleaner
Spectrum Ceiling Cleaning Capabilities
Acoustical Ceilings
Spectrum ceiling cleaner mixture should be sprayed lightly on surface, making sure it is uniformly covered. In an hour or so, your ceiling will be clean and brighter. This ceiling cleaning mixture is the key - you do not touch the surface, especially the textured type, or tiles. Grease - dirt - smoke are oxidized (burned up), leaving a clean and white ceiling when dry. No time consuming masking of walls or molding is required - simply wipe off solution and metal tracks.
Drop Type Ceilings
Test single tile for color fastness / chemical reaction prior to doing entire ceiling. Ceiling cleaner mixture should be sprayed lightly on surface, making sure it is uniformly covered as described above - two light coats work best. Metal tracks should be wiped or blotted to prevent spotting, when dry. Dirt and stains are removed, leaving a clean ceiling when dry. Removal of water spot damage will require pre-treating with Bleach Mixture - full instructions are included with orders.
Ceiling Vents - Black Residue On Ceiling
This is an extremely tough stain to remove! Spectrum is mixed with Clorox® Bleach and water (mixing ratio included) - spray on stain to pre-treat - allow mixture to work 15 - 30 minutes, then spray on the heavy duty ceiling mixture and allow it to work. Repeat above procedure if necessary. You may also try blotting the stain, if possible with your particular ceiling tile. Note: Heavily stained areas may not come out completely.
Silk Plants
Hydrogen Peroxide cleaner should be mixed light - evenly spray a light coating onto plant surface - allow to work 30 minutes, then rinse or blot dry droplets. Results are a clean and bright plant when dry.